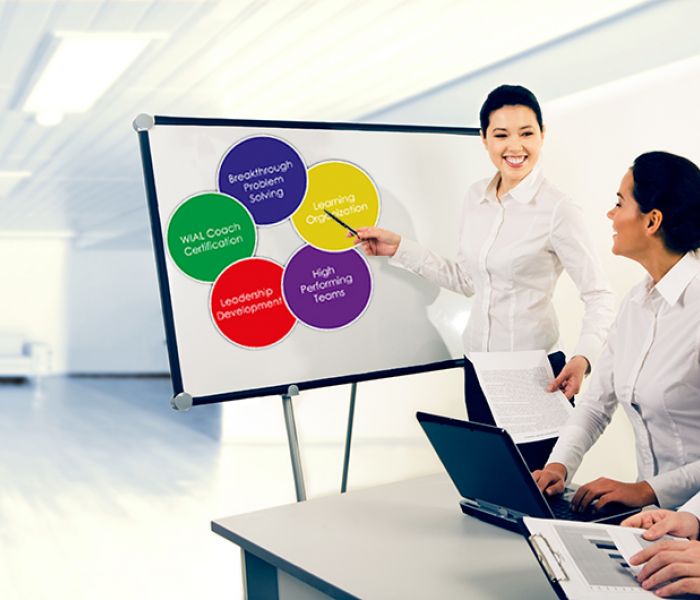 Corporate Trainings:
The increased volume and scope of international investment and assistance entering the country is disproportional to the existing capacity of the local labour market. According to our market analysis, search for competent and confident candidates to undertake assignments offered by the international companies and organizations proves to be challenging.
Competent personnel is crucial for conducting successful business and project management. That is why training the Myanmar workforce is essential to meet the expanding market needs. We strongly believe that the existing potential simply needs to be developed. Our trainings develop and upgrade skills and knowledge of Myanmar employees, creating competent and pro-active staff that contributes to smooth operations of your organisation in Myanmar.
Our training programmes are designed to meet the demands of today's fast-changing labour market in Myanmar. Synergia's trainers deliver high-class content to build your staff technical acumen, as well as unlock their personal potential. Out programmes include:
Synergia is a partner of World Institute of Action Learning https://wial.org/.
WHY ACTION LEARNING?
Action Learning solves problems, develops leaders sand teams simultaneously
Develops systematic, critical and innovative thinking for successful strategies 
Builds confidence in taking action as individuals and as a team
Builds highly effective teams through strengthening interpersonal relationships, fostering communication, creativity and effective cooperation
Global corporations and national companies including Auchan, Bangkok Airways, Boeing, Decathlon, Heineken, Nestle, Samsung, Thomas Reuters included Action Learning in their Learning and Development Programmes.  
Master the essential concepts of project management
Provides sound project management planning tools
Optimizes planning by using critical chain method planning tools
Teaches how to define your team's roles and responsibilities and delegate tasks
Provides tools for budgeting and cost control skills and conducting risk assessments
Elevates competence in monitoring, reviewing and evaluation practices
CULTURAL BRIDGING AND TEAMBUILDING
Fosters better communication on social and business issues among people from different cultures
Improves skills on how to better interpret behaviour, attitudes and communication styles
Provides basics on code of conduct in Myanmar and in other cultures
Create strong relations with colleagues by applying active listening and sharing views from different perspectives Minimise tensions and improve cooperation and understanding in your team
Provides insights of effective communication, including clear messages, barriers, and conflicts 
PROFESSIONAL SECRETARIAL AND ADMINISTRATION
Sharpen multicultural verbal and written communication skills
Provides insights on how to become a better listener and effectively take instructions from your team leader
Provides techniques for professional e-mail and letter writing, as well as accurate note taking
Provides basics on how to professionally handle telephone calls and talk to customers face-to-face
Provides techniques on how to handle stressful situations and resolve conflicts at work
Provides skills to become a self-reliant problem solver 
PROFESSIONAL PRESENTATION
Provides practical tools and techniques for preparation and conducting professional presentation 
Provides techniques on how to present yourself, through body language, voice and speech structure
Provides constructive feedback from experts and audience on the areas for improvement through interactive role-play
Provides skills on how to analyse the audience and adjust the presentation style and delivery accordingly
Helps to understand the nature of stress and how to reduce its negative impacts
Learn technical and comprehensive IT business skills which will serve as a foundation for a prosperous company and ensure successful execution of projects
Develops or advances competence in Microsoft Office (Word, Excel, PowerPoint)
Provides insightful techniques for conducting research on the internet, through critical thinking
Enhances communication through social media through navigating social media platforms to improve your organisation's presence and visibility on the market
Provides insights on retail and corporate sales
Develops skills on how to succeed in sales including communication (questions and active listening), time management and interpersonal skills for building trustful relations with existing and prospective clients
Develops skill on how to acquire product knowledge and its advantages over competition
Provides techniques on non-verbal communication and the use of body language
Provides techniques on how to build sales strategy through, prospecting, researching, connecting, closing, delivering and following up
CUSTOMISE YOUR OWN TRAINING PROGRAMME
Synergia offers tailoring any of the above programmes to best address your organisation's needs
Conducts assessments to identify gaps in your organisation's capacity and personnel competence
Provides analysis of your organisation's processes and assigned roles in your company
Suggests a structure that will ensure the best performance
Helps to creating job descriptions: defining roles with key activities related to responsibility, accountability and authority
Contact Synergia and consult one of our training specialists
HR Development:
A dynamic partnership of Synergia-Consulting & Training and Adult Talent Development (ADT) offers a full range of HR services to improve your company's performance through better productivity, effective leadership, teamwork and communication.
Our partnership brings to Myanmar globally recognized HR methodology and tools. We are the only provider of a DISC personality assessment in Myanmar. The assessment is used in more than 40 countries and millions of companies have benefited reaching success at the individual and business level.
ADT's strong expertise in HRD and HRM together with Synergia's successful operations in Myanmar, we are confident we can provide the best HR solutions for your company.
Organisation Planning & Development
We provide support to your organisation's planning and development by analysing your teams and processes based on their roles in the organisation.
We help to identify common threads—both beneficial and harmful—running through your organisation. We locate emerging problems and develop innovative solutions to better structure your organisation, leading to better results. This helps us better define job description and competence.