AGRICULTURE AND RURAL DEVELOPMENT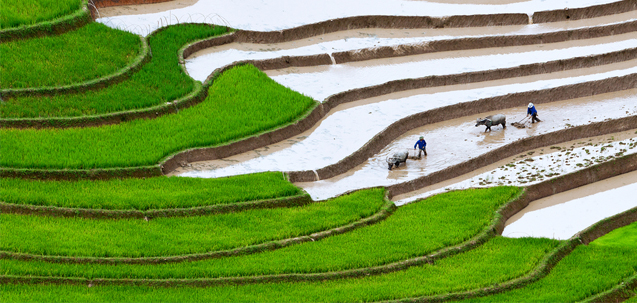 OUR PROJECTS AIM AT RAISING AGRICULTURAL PRODUCTIVITY, REDUCING VULNERABILITY, IMPROVING NON-FARM RURAL EMPLOYMENT, INCREASING INCOME WHILE MAKING AGRICULTURE MORE ENVIRONMENTALLY SUSTAINABLE
Rural development is one of the most powerful tools for poverty reduction, ensuring food security, economic growth and environmental sustainability. Our approach is to address problems in Myanmar and transitional context, and to take advantage of a great opportunity for broad based inclusive growth stimulated by rural development. Our projects aim at raising agricultural productivity, reducing vulnerability, improving non-farm rural employment, increasing income while making agriculture more environmentally sustainable. Activities include:
Capacity Building of the public sector in formulating and implementing policies to enhance inclusiveness and efficiency in agri-business chains;
Reducing rural poverty through increasing market access and linkages between value chain actors, improve suppliers' product offering and expand their rural networks to enable small-scale farmers access affordable and appropriate inputs such as seed and fertiliser on a sustainable basis and preventing giving away inputs for free;
Promoting vocational training on business development leading to community-based enterprise creation;
Linking sustainable small farmer enterprises to each other, to markets, financial institutions, to service providers and to policy processes, to enhance the profitability of smallholder farmers and their capacity to add value to locally produced raw materials;
Strengthening livelihood systems of the most food insecure and consolidate their path to more sustainable economic development, through upgrading skills, increasing farmers' knowledge and access to productive assets such as: fertilizer, tools, machinery, feed, veterinary services, strengthening capacity to diversify crops, add value to the product, reduce storage losses, and reach the market for a better price;
Irrigation and drainage services through mini and large-scale irrigation schemes and flood embankments in view of increasing agricultural production and improving farm income, employment and living standards of farm families;
Training to improve resilience of targeted rural livelihoods and strengthen individual and collective coping mechanisms for vulnerable households, providing the knowledge and training to enable people to become more self-sufficient through more productive agriculture practices (international standards), and training in rural development, land management services and community–based adaptation in disaster risk reduction processes;
Strengthening capacity of local training institutions (Training of Trainers).