HUMAN RESOURCES DEVELOPMENT AND EDUCATION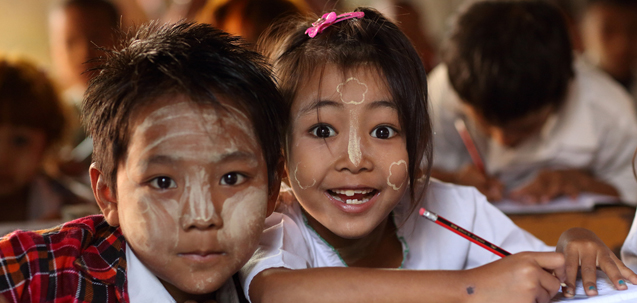 OUR AIM IS TO CONTRIBUTE TO BUILDING NEW, AND STRENGTHENING ALREADY EXISTING LEARNING SYSTEMS IN VIEW OF HUMAN DEVELOPMENT AND CREATION OF NEW EMPLOYMENT OPPORTUNITIES
After decades of economic and political isolation, Myanmar is opening to unprecedented levels of foreign direct investment and international development projects. The increased volume and scope of international investment and assistance entering the country is disproportional to existing capacity of the local labour market. According to our market analysis, search for the candidates that are competent and confident to undertake assignments offered by the international companies and organizations, proves to be challenging, but promising. Due to the limited number of qualified staff has also an impact on the frequent rotation in the work places due to the better conditions offered by competitors.
Our aim is to contribute to building new, and strengthening already existing learning systems in view of human development and creation of new employment opportunities. Our expertise covers formal an informal learning in primary education, as well as secondary, adult education and TVET. Our expertise lies in:
Management of education programmes;
Education Sector Review: research in private and public schools in view of the improvement of Education delivery, increase access to education and to help children to receive fundamental life skills;
Development of complementary education systems including and programs for vulnerable children who cannot attend primary schools;
Designing training materials and teaching resources, using best international practises for upgrading educational and TVET systems;
Design and delivery of Certificates – Training and Assessment, programs across a wide range of industries.
Delivering training, coaching, technical assistance, capacity building of education specialists and public institutions, including relevant Ministries as well as TOT;
Full cycle development, implementation and monitoring of curricula development and incorporating innovation in view of improving entrepreneurship in the transitional countries;
Trainings:
We believe in a great potential of people in Myanmar and other countries in transition and we would like to build on already existing knowledge and skills. Our approach is to deliver tailored trainings specifically designed to our clients' needs programme and are based on best international practises. Trainings are conducted by experienced experts who have been actively contributing to development of human resources in numerous countries that went through the process of transition.
We facilitate results-oriented trainings based on the participatory approach of the candidates, enabling learning in the most practical way and adjusting the methods if needed throughout the process. Our trainings' objective is to enable candidates to have a good understanding of the international business environment and dynamics. At the same time, we provide support to the international companies entering emerging markets, in deepening their understanding of the local culture and operating according to Corporate Social Responsibility standards.