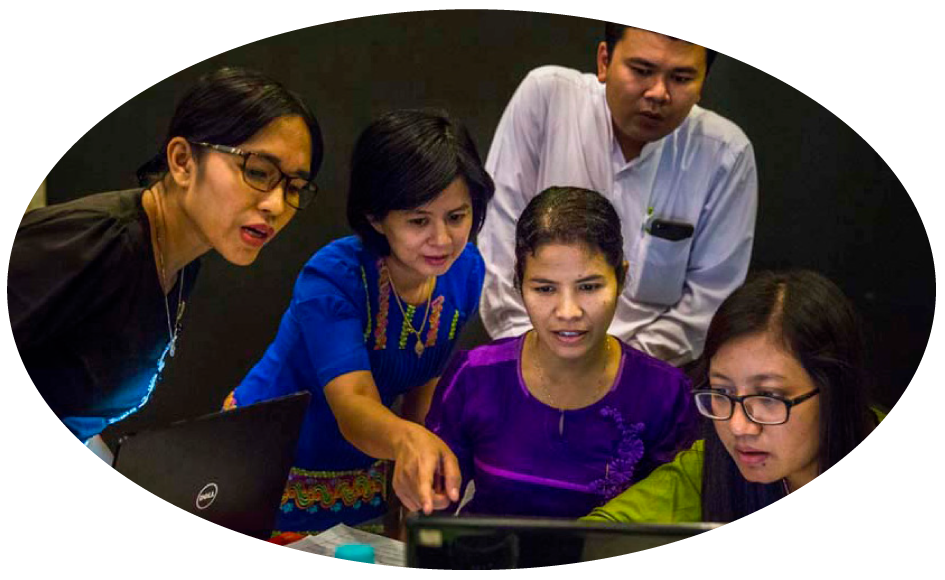 OUR GOAL
The increased volume and scope of international investment and assistance entering the country is disproportional to the existing capacity of the local labour market. According to our market analysis, search for competent and confident candidates to undertake assignments offered by the international companies and organizations proves to be challenging.
Competent personnel is crucial for conducting successful business and project management. That is why training the Myanmar workforce is essential to meet the expanding market needs. We strongly believe that the existing potential simply needs to be developed. Our trainings develop and upgrade skills and knowledge of Myanmar employees, creating competent and pro-active staff that contributes to smooth operations of your organisation in Myanmar.
Our training programmes are designed to meet the demands of today's fast-changing labour market in Myanmar. Synergia's trainers deliver high-class content to build your staff technical acumen, as well as unlock their personal potential. Out programmes include:
"Action Learning helped me to understand what my team thinks about and hear potential solutions."
Methodology
Action learning is a powerful, yet a simple process, that involves a small group of 5–8 persons working collectively on a real business problem, taking decisions and actions, and learning as individuals, as a team and as an organisation. It is an educational process by which a person studies his or her own actions and experience to improve performance.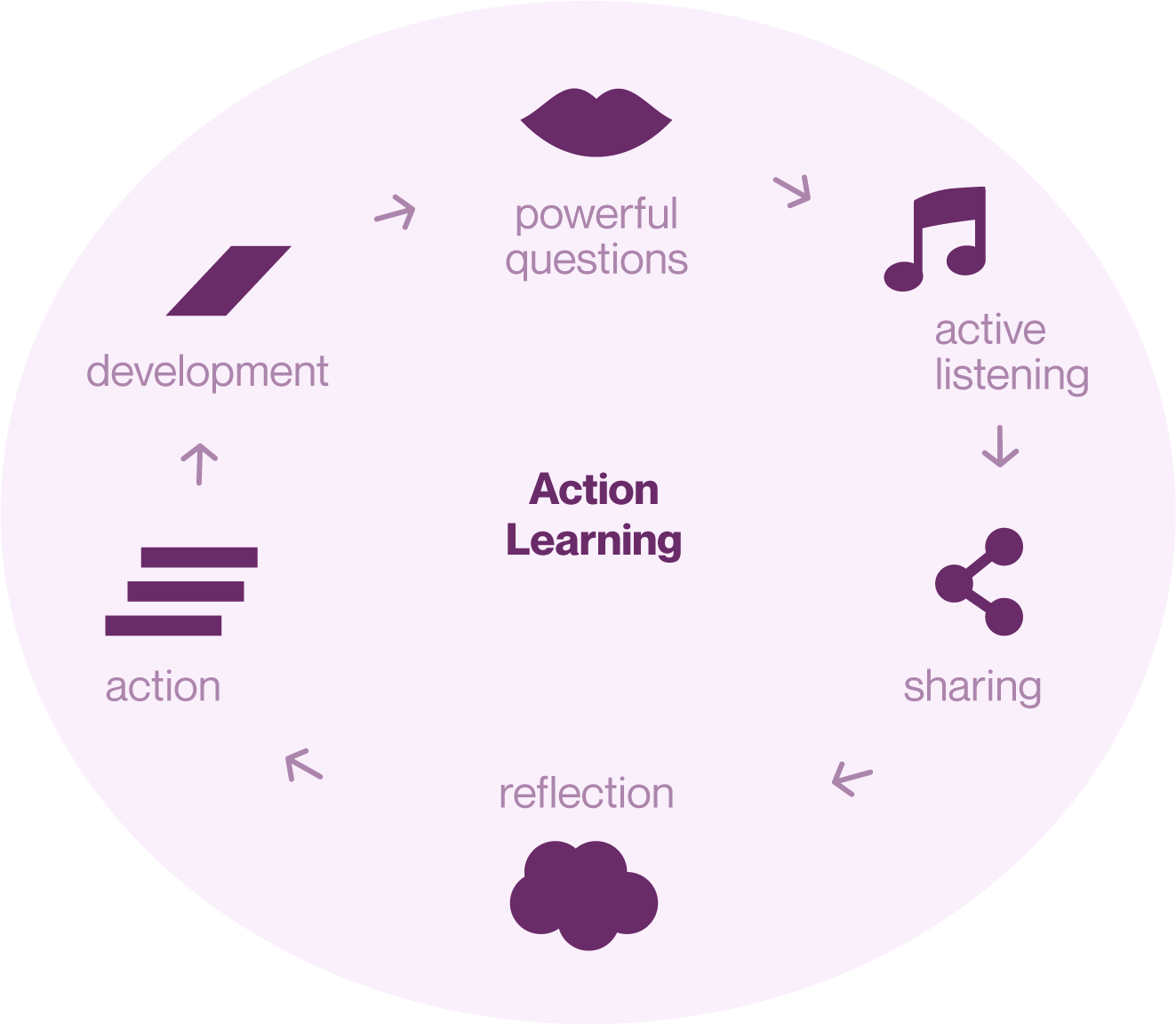 In Short… WHY ACTION LEARNING?
Creative and breakthrough solutions

Increased empowerment and engagement 

Peer coaching and giving feedback

Conflict mitigation and improved communication

Enhanced performance and efficiency of your business
Team Psychological Safety
Team Psychological Safety – Research confirms that when people feel safe within a team they will perform better; they willingly take risks, actively contribute and work hard knowing that they can depend on the others in the team to support them and put in as much effort. In a business context this is called 'team psychological safety' (TPS) and it is the key to high-performance teams. TPS is based on seven elements:
(1) Appreciation
(2) Mutual support
(3) Reaction to mistakes
(4) Dealing with issues
(5) Accepting diversity
(6) Taking risks
(7) Asking for help.
Our Programmes
Leadership in Changing Environment
How to become a leader that can adopt and lead the team through the turbulent times?
Through Leadership Programme the managers will:
Develop critical, systematic and innovative thinking towards high-performance mindset

Develop self-confidence and readiness to take responsibility and initiative

Be able to solve real business challenges effectively

Build confidence in making decisions

Learn how to lead the teams through motivation and engagement

Increase awareness and enable individuals to identify personal development challenges

Create the environment for organisational learning, innovation and continuous adaption
*Recommended number of sessions: 6-8 (2-3 hours). One session weekly.
High Performing Team Programme
How to develop highly collaborative and innovative teams in the process of change?
Through the High Performing Team Programme, team members will:
Relate to, communicate more effectively and build trust among each other

Work in disciplined ways of a powerful team, with structured peer support

Elevate norms, collaboration, and creativity

Develop enabling environment and shared understanding for risk taking

Mitigate existing or potential conflicts and improving decision making process

Creating solutions to difficulties in internal and external communication, 'from conflict to collaboration'
*Recommended number of sessions: 6-8 (2-3 hours). One session weekly.
Effective Problem Solving Programme
Leading the process of change in times of uncertainty
Through the Problem Solving Programme, the participants will:
Develop systems thinking, creativity, flexibility, and problem-solving skills (through supportive but challenging questioning and reflection)

Gain deeper understanding of the challenges, a reflective reassessment of the problem, and an exploration of ways forward, realised in breakthrough solutions

Generate a new way of problem solving and action taking in the business environment, e.g.
Reduced motivation due to salary cuts, stress related to the ongoing laying-off

Creating new strategies, for restructuring, sales and marketing, people's management

Solving individual, teams' and organizations' problems due to an unexpected change
*Recommended number of sessions: 6 (2-3 hours). One session weekly or 2day programme. 
Negotiations skills:
Persuasion: 
Learning how to define your proposed solution
Defining the position and expectations vs partners' goals
Gathering useful information ahead of time, so you will be less likely to confront something unexpected during your negotiation
Planning and strategizing
Understanding how the consequences will impact everyone in the long-term and drawing best solution out of it
Entering a discussion with at least one backup plan
Consider all possible outcomes, and being prepared for each of these scenarios
Priorities vs compromise – Define your BATNA
Learning process at three levels:
personal development
peer-to-peer learning – from others' experiences and perspectives, as well as through providing and receiving constructive feedback
team level
Provides insights on retail and corporate sales

Develops skills on how to succeed in sales including communication (questions and active listening), time management and interpersonal skills for building trustful relations with existing and prospective clients

Develops skill on how to acquire product knowledge and its advantages over competition

Provides techniques on non-verbal communication and the use of body language

Provides techniques on how to build sales strategy through, prospecting, researching, connecting, closing, delivering and following up
Learn technical and comprehensive IT business skills which will serve as a foundation for a prosperous company and ensure successful execution of projects

Develops or advances competence in Microsoft Office (Word, Excel, PowerPoint)

Provides insightful techniques for conducting research on the internet, through critical thinking

Enhances communication through social media through navigating social media platforms to improve your organisation's presence and visibility on the market
Customise Your Own Training Programme
Synergia offers tailoring any of the above programmes to best address your organisation's needs

Conducts assessments to identify gaps in your organisation's capacity and personnel competence

Provides analysis of your organisation's processes and assigned roles in your company

Suggests a structure that will ensure the best performance

Helps to creating job descriptions: defining roles with key activities related to responsibility, accountability and authority
Contact us 
09-262159816 
thinzar.thaw@synergia-consulting.com
No.21, Ngar Htat Gyi Pagoda Road, Wingabar Road, Bahan Township, Yangon. 
Organisation Planning & Development
We provide support to your organisation's planning and development by analysing your teams and processes based on their roles in the organisation.
We help to identify common threads—both beneficial and harmful—running through your organisation. We locate emerging problems and develop innovative solutions to better structure your organisation, leading to better results. This helps us better define job description and competence.